Big Ten East Power Rankings: How Does Penn State Football Stack Up Against Michigan, Ohio State at Bye?
Where does Penn State Football stack up in the Big Ten East as we near the midway point in the 2023 college football season?
Following one of the most boring blowouts in college history last week against Northwestern, the Nittany Lions have the week off before hosting UMass on October 14th at 3:30pm.
And the bye couldn't have come at a better time for James Franklin and crew as the team can regroup, heal some injuries, and make the necessary adjustments going into the meat of their schedule.
And rather than talk about Deion Sanders or Taylor Swift, how about we throw out some good old fashioned power rankings?
You good with that?
Great!
Big Ten East Division Power Rankings – Where Does Penn State Football Stand?
No. 7 – Indiana
Record: 2-3
Conference: 0-2
Hey, does anyone remember when the Hoosiers beat Penn State, Michigan, Michigan State, and Wisconsin on their way to a 6-1 conference record back in 2020?
That seems like it was at least a decade ago. And it has to seem longer than that to Indiana fans.
Well, Michael Penix Jr. is under center for the No. 7 Washington Huskies and the Hoosiers are 8-21 since their incredible run during the COVID-year.
The Fighting Tom Allen's are once again struggling this season and after only putting up 3, 14, and 17 points respectively in their three total losses, Indiana fired offensive coordinator Walt Bell.
And, things aren't looking any better for the Hoosiers as they face No. 2 Michigan, Rutgers, No. 6 Penn State, and Wisconsin in their next four games.
The only remaining intriguing game on their schedule is when they host Michigan State on November 18th. I have no idea what the outcome of this game will be but my best guess is that it will barely resemble football. Do yourself a favor and watch some reruns of Below Deck rather than that game.
Next game: October 21st at home vs. No. 2 Michigan TBD
No. 6 – Michigan State
Record: 2-3
Conference: 0-2
Oh Sparty.
After the Mel Tucker-less Spartans dismantled Central Michigan (31-7) and Richmond (45-14) in their opening games, the road has been very rough since.
The aforementioned Michael Penix Jr. threw for 473 yards and four touchdowns when Washington waxed Michigan State 41-7 on September 16th. The Spartans then followed that up by being crushed at the hands of Maryland (31-9) and giving up an insane number of points to Iowa (26-16) in their third straight loss.
I mean look, the gambling depleted Iowa State roster was able to hold Iowa to 20 points back on September 9th. And that was even with Cade McNamara at quarterback.
Michigan State is in utter turmoil, the team is playing like garbage, and it's possible they may only win one more game the rest of the season.
Circle that November 18th date in Bloomington with permanent marker!!
Next game: October 14th on the road @ Rutgers 12:00pm
No. 5 – Rutgers
Record: 4-1
Conference: 1-1
Give Greg Schiano credit, the guy can motivate players to play and he gets his teams to play tough.
The Scarlet Knights have looked good in their four wins and they actually beat a Power Five team in a non-conference game. Are Northwestern, Temple, Wagner, and Virginia Tech any good?
No, not at all.
But, for a team like Rutgers who hasn't eclipsed the six win total since 2014, they'll take any wins they can get.
Plus, they still get to face Michigan State at home before hitting the road to face Indiana.
Scarlet Knight fans can almost smell the wonderful scent of Bourbon Street at 2:33am before their matchup in the following day's R+L Carriers New Orleans Bowl.
#weregoingbowling
Next game: October 7th on the road @ Wisconsin 12:00pm
No. 4 – Maryland
Record: 5-0
Conference: 2-0
By the looks of things so far this season, the Terrapins might be a problem for some Big Ten teams.
Taulia Tagovailoa is completing his passes at a 66% clip along with 1,464 yards and 13 touchdowns versus only three interceptions. In their five total games, Maryland is averaging close to 40 points per game and it looks like they can score on almost anyone.
But, it's not just the offense that's turning heads. The Terrapins defensive coordinator, Brian Williams, has his until playing fast and loose as Maryland only surrendered 14 points to Virginia, nine points to Michigan State, and 17 points to Indiana.
Granted all three of those teams stink, but look, I'm trying to say something positive about Maryland. It's not easy.
When looking at the Terrapins remaining schedule, it wouldn't be out of the realm of possibility if they can get to double digit wins when the dust finally settles at the end of the year.
But college football fans will get to really see how good Maryland is this coming week.
Next game: October 7th on the road @ No. 4 Ohio State 12:00pm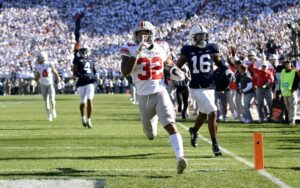 No. 3 – Ohio State
Record: 4-0
Conference: 1-0
Okay, before you start putting words in my mouth and trying to make something out of nothing here, by me putting Ohio State below Penn State does not immediately mean I think the Nittany Lions will exorcise their demons in the Horseshoe and topple the Buckeyes on October 21st.
I am in no way saying this will happen.
At least not yet.
All this means is what I've seen so far from Ohio State hasn't been overly impressive.
First year starter Kyle McCord has been okay, the offense has struggled at times, the Buckeyes run game has been decent, and the defensive side has looked good.
It's kind of hard to really gauge a team when they've played Indiana, Youngstown State, Western Kentucky, and the most overrated team in the existence of college football, Notre Dame.
We're about to find out a lot about both Maryland and Ohio State this coming week.
Next game: October 7th at home vs. Maryland 12:00pm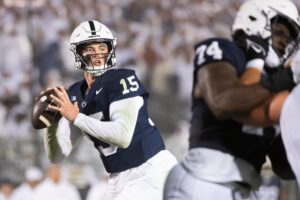 No. 2 – Penn State
Record: 5-0
Conference: 3-0
I'll start with the negatives first because they've been glaring and apparently I like to complain a lot.
The Nittany Lions on the offensive side of the ball need some work. There have been times this year where they didn't just look mediocre, they were downright Chicago Bears level of bad.
Drew Allar hasn't thrown for more than 208 yards since the opening night win against West Virginia, Allen/Singleton are carrying the ball for 4.4 ypc and 3.8 ypc, receivers are still dropping balls, Theo Johnson has been virtually nonexistent, and no other pass catcher has taken the next step forward to assist KeAndre Lambert-Smith.
In their road games against Illinois and Northwestern it was hard to tell if the offense didn't have their eyes shut for both opening halves.
But now let's look at the positives.
Yes, the offense needs either some retooling or a swift kick in the butt, but that cannot be said about the defense.
Through five games the defensive unit has tallied six interceptions, recovered six fumbles, racked up 20 sacks, and have given up less than 10 points per game (9.6). This group is locked and loaded and they will continue to get better as the year goes on.
"Starting defense, place at the table!"
So back to the offense, as this is a big one, they have not turned the ball over yet this year. Obviously the team has a turnover but that was Singleton when he was getting some work in on special teams, so I don't put that on the offense.
I would also add Alex Felkins to the positive list as he's hit 7-9 field goals and is a perfect 23-23 on extra points.
Is this the year the Nittany Lions knock off both Ohio State and Michigan?
I'm not going quite there yet. Let's just see how they look against UMass.
Next game: October 14th at home vs. Massachusetts 3:30pm
No. 1 – Michigan
Record: 5-0
Conference: 2-0
Yep, I have the Wolverines at No. 1.
And even though it's a different year and the players have somewhat changed from last year, this version of Michigan appears to be exactly the same as the past couple of years.
They will grind you down with the run game, complete passes to move the chains when needed, and completely suffocate you with their swarming defense.
J.J. McCarthy is completing close to 80% of his passes on the year to go along with 1,071 yards and 10 touchdowns. The Wolverines as a team have racked up a total of 920 yards on the ground and are averaging 4.9 carries as a team.
Conversely, Ohio State only has 596 yards in one less game and Penn State is barely north of four yards per carry.
I know what you're asking yourself, has Michigan really played anyone yet?
Well, no. But they have crushed every single opponent so far. The Wolverines are averaging 34 points per game and are only giving up an average of six.
And with their schedule and with the cross over conference games, Michigan won't be tested until later in the year. We'll see how good they are then.
Next game: October 7th on the road @ Minnesota 7:30pm
A note to our readers; If you make a purchase through one of our affiliate links, we may receive a commission
About Author