For Penn State Football it's All(ar) or Nothing
It is time for Penn State Football to move on from Sean Clifford, and that's okay.
This was always going to be a transition year for the Nittany Lions quarterback room.
Clifford was coming back for a sixth year, using his COVID year eligibility for one final go around. He already had set up his after-football career, launching his Limitless NIL agency earlier this year. It seemed like both sides knew where this was headed.
Penn State Football head coach James Franklin and the team knew that they needed an experienced quarterback to get them through a rough beginning of the season schedule, going on the road twice in the first three weeks and providing guidance to the young (but very talented) quarterback room that Penn State has.
Meanwhile, Clifford (likely) knew that an NFL career was off the table based on the results of the past three years and the projections coming into the season, which is why he had set himself up for the future off the field.
We all knew the ceiling for Sean Clifford seeing the results of the 44 games he has played in a Penn State uniform. Now we have reached the point in the transition season where the Nittany Lions should move on from Sean Clifford and shift to the future, 5-star freshman Drew Allar.
How did we get here?
Saturday in Ann Arbor was a rough outing for Clifford, just like the rest of the Nittany Lions.
Before leaving the game due to an apparent shoulder injury, Clifford posted the worst statistics of his Penn State Football career, completing just 7-of-19 attempts for 120 yards and rushing for 74 yards on six attempts (62 of those on one rush). Saturday was Clifford's sixth time in his career completing less than 50 percent of his passes.
This wasn't a one-off bad performance. This has been just another iteration of the one thing Penn State fans have hated to see the past few years: a banged-up Clifford trying his all to keep playing.
<< BUY PENN STATE NITTANY LIONS GEAR >>
I give Clifford credit; he is extremely tough. He has had quite a few injuries throughout his Penn State career and continued playing through most of them. However, as Nittany Lion fans, we have grown to see how limited the offense is when Clifford is injured. His accuracy, his ability to scramble, and his willingness to stay in the pocket until receivers are open all suffer when he is injured.
In seasons past, Franklin has made the decision to keep trotting Clifford out there while injured because of a lack of experience in the quarterback room behind him.
This year, while there is still a lack of experience, there is one difference in the quarterback room.
Franklin has a 6-foot-5, 230 pound, highly recruited, highly talented backup waiting in the wings.
A quarterback that is an unknown but has the raw talent to take this offense and the team to the next level. 5-star freshman Drew Allar's time has come, and its time for Franklin to make a tough decision and move the Penn State football team into the future.
The future is now.
After watching Clifford's 38 career starts, we know what the Lions are getting.
When healthy, he is a slightly above-average quarterback that will win you most of the games you are supposed to win.
When injured, he is well below average and drags the whole offense down with him (see the Illinois game last season).
If Clifford is injured in any way, Drew Allar needs to start.
There is no reason with such a highly talented backup to trot an injured Clifford out and make our offense even more predictable and one dimensional. I would argue, even if Clifford is healthy, the time is now to change quarterbacks and try to bring some life back into the fan base and the season.
There is no better time than coming back home to the whiteout to make a change.
The fanbase is feeling downtrodden after a blowout loss at Michigan, and desperately needs a jolt of energy to bring into this weekend.
Making the change from Sean to Drew gives the fans an excitement that the program has not had at the quarterback position in years.
The anticipation for Saturday's game will be a lot higher with Drew starting than Sean. On the field, while there may be some growing pains in starting the freshman, Sean is not without his mistakes and issues, especially for a quarterback with so much experience.
Why playing Drew Allar matters for Penn State Football's future
I would argue that both Drew and Sean's floors are the same, but Drew's ceiling is so much higher and unknown. In my opinion, there is not a game on the schedule that Drew will lose that Sean would win.
The only difference is giving Allar real game action to develop and grow, rather than limiting this growth to second team reps on the practice field, will speed his development to his full potential. Moving to Drew gives us the same outcome this season, while raising our ceiling for the next two seasons. I would certainly rather see Drew make his freshman mistakes this season after already getting through our toughest road environments and already suffering our first loss than next season when the slates are wiped clean.  
While it's not the ride off into the sunset that Sean Clifford might have hoped for when he came back for his sixth season, it's time for a change. It is time for Clifford to move into a backup role and keep helping Drew learn the game, this time with a clipboard from the sideline.
The handoff to Allar was always going to be a "when" not "if" question, and it is best to do it now to give him time to develop into the star we all hope he is before setting up for a massive run in 2023 and 2024.
Penn State fans should thank Sean for everything he has done in the blue and white, but Allar is the future and the future is now.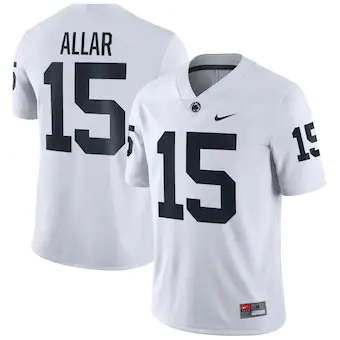 A note to our readers; If you make a purchase through one of our affiliate links, we may receive a commission
About Author