Bowl Roundup: Where is Penn State Football Projected to Go Bowling?
Penn State Football is one win away from wrapping up its fifth 10-win season under head coach James Franklin. Barring a loss or horrendous looking win, Penn State should get an at-large selection for a New Year's Six Bowl game.
Here are the latest bowl projections for Penn State Football from major media outlets
247Sports: Peach Bowl vs. Tulane
OUR TAKE: 247Sports matches up Penn State with the highest ranked Group of 5 team, Tulane, in the Peach Bowl. the Nittany Lions have never played in the Peach Bowl, and last matched up in the postseason with the highest ranked Group of 5 champion in 2019, beating Memphis 53-39.
<< Make Your Penn State vs. Michigan State Pick With NittanyCentral's OFFICIAL SportsBook Partners >>
ESPN: Fiesta Bowl vs. Washington/Oregon
OUR TAKE: In the latest release of ESPN's bowl projections, both Mark Schlabach and Kyle Bonagura believe the Nittany Lions will be heading to Phoenix to face a PAC-12 opponent, however the two differ on which PAC-12 opponent will miss the College Football Playoff and slide to the Fiesta Bowl. Penn State most recently played in the Fiesta Bowl following the 2017 season, beating Washington 35-28.
CBS Sports: Peach Bowl vs. Missouri
CBS Sports also has Penn State heading to Atlanta to the Peach Bowl for the first time in program history. In this projection, Penn State faces an SEC opponent in Missouri. Penn State and Missouri have faced off four times, with Penn State winning three of four matchups, including the past two in 1970 and 1980.
Action Network: Peach Bowl vs. Tulane
Action Network also has Penn state matching up with Tulane in the Peach Bowl. Penn State has faced Tulane once in program history, a 9-6 victory in 1979.
As long as the Nittany Lions take care of business on Black Friday, Penn State should be heading to its fifth New Year's 6 Bowl game in the James Franklin era. As the final week of the college football regular season closes, Penn State should see a clearer picture of where the Nittany Lions will go bowling.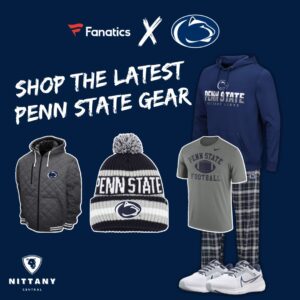 A note to our readers; If you make a purchase through one of our affiliate links, we may receive a commission
About Author