Penn State Football: How Sean Clifford holds off Drew Allar
Penn State Football quarterback Sean Clifford enters his sixth season, and fourth as the starter, but five-star passer Drew Allar offers much promise.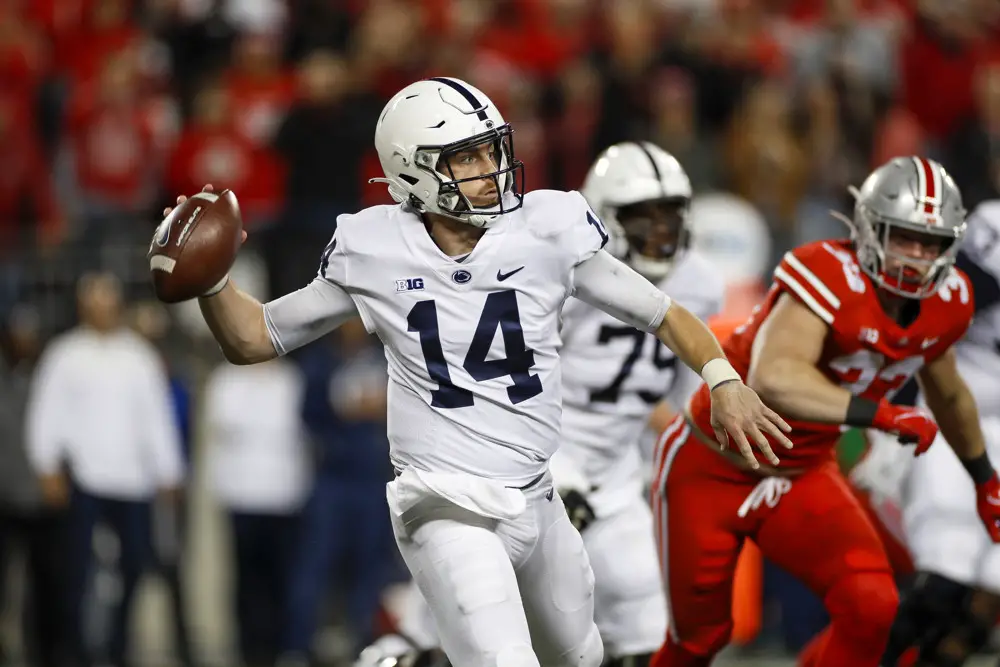 When Sean Clifford announced that he would be using his extra covid eligibility to return for his sixth season, many Penn State Football fans let out a collective groan.
Many wanted to move on and start fresh at quarterback for the 2022 season.
Clifford broke onto the scene in 2019 throwing for 23 touchdowns, seven interceptions and 2,654 yards. He completed 59.2% of his passes and had a quarterback rating of 148.5 leading the Nittany Lions to a 11-2 record and Cotton Bowl victory.
The 2020 season is where the perception of Clifford started to go south.
Clifford played in nine games throwing for 16 touchdowns and nine interceptions, with just 1,883 yards. The covid schedule may have played a role but the season was rocky from the start with a new offensive coordinator, no fans and eventually getting benched for Will Levis after an 0-5 start.
That entire 2020 Penn State Football team played horrible, so it is difficult to really pin all the blame on Clifford.
Nonetheless, many Penn State fans wanted to just keep rolling with Levis and give him some reps or possibly look at 3rd stringer Ta'Quan Roberson … as if things could have gotten much worse.
Now, Clifford must deal with a new challenge, Drew Allar.
<< BUY PENN STATE NITTANY LIONS GEAR >>
How Drew Allar's presence impacts Penn State Football
While Levis, Roberson, and Christian Veilleux were all three-star quarterbacks coming out of high school, Allar is a heralded five-star super talent that is ranked in the top-three at his position in the nation across multiple recruiting platforms.
The expectations are sky high for Allar, as he has already enrolled early with his future backfield partner Nick Singleton this past spring semester.
During the 2021 high school season Allar threw for 4,444 yards, 48 TDs and 7 INTs while playing for Medina High School in Ohio.
Sitting behind Clifford for a season could prove to be beneficial to Allar, especially as he adjusts to the speed of Division 1 football. It is likely that he could end up redshirting for the 2022 season with Veilleux serving as the backup quarterback.
Another talented three-star freshman in Beau Pribula is also joining the Nittany Lions this season, and will provide even more depth to the quarterback room.
Why Sean Clifford's veteran presence matters
Many fans were frustrated with Clifford last season, but he still has the favor of the coaching staff. This will be his fourth year as the starting quarterback and more importantly his second year in Mike Yurcich's offense.
With the coaching staff's backing, and Allar still adjusting, Clifford has more room than most of the Penn State fanbase wants to admit.
Realistically, as long as the team is not getting upset or losing badly in any games and Clifford plays mediocre, he won't lose the job. No matter how much fans complain.
The best thing Clifford can do is start fast.
Clifford can take the pressure off by winning tough road games at Purdue and Auburn in the first three weeks of the season.
Those victories could help propel Penn State Football up the polls, and give the Lions some momentum.
Even if the quarterback play isn't spectacular, winning games is all that matters at the end of the day.
The nightmare scenario, though, is if the team has a similar start to 2020 where they lost their first five games.
This season is a little bit different, with MAC teams Ohio and Central Michigan mixed in, but a 2-3 start with losses to Purdue, Auburn and then Northwestern at home would certainly cause a lot of loud concern. Of course, losing to either of the MAC teams would also cause a panic in State College.
While many are excited for Allar to become the starting quarterback, having a veteran into tough road environments like Auburn and Michigan will be beneficial for the Nittany Lions.
Expect Clifford to have the longest leash possible by this coaching staff for this season and if he stays healthy cement his role as starting quarterback. If an injury occurs expect to see Veilleux start similar to how last season finished.  If we do see Allar start, it is most likely that we have much bigger issues on our hands and it won't just be Clifford who lost his job.
A note to our readers; If you make a purchase through one of our affiliate links, we may receive a commission.