Penn State Football Humiliates Iowa, Exacts Revenge With Shutout Win | 3 Things We Learned
If you're a Penn State Football fan, you're feeling really good today about the 31-0 "whitewash" of the No. 24 Iowa Hawkeyes Saturday night.
But, your mood today might be in slight contrast to that of the much heralded transfer Hawkeye QB Cade McNamara.
"This is the worst feeling in the world. I don't remember the last time I've ever felt this bad about a game let alone a day in my life" the deflated losing quarterback told reporters after the drubbing in Happy Valley last night.
McNamara talking about last night's game vying for the top spot among the worst days of his life would probably be an undersell.
Credit Penn State's swarming defense for the senior QB's post-game mood, along with a seed that was planted in Iowa City in 2021 growing into a full-fledged revenge forest.
If it looked like James Franklin's team went out of its way to humiliate the Hawkeyes on Saturday night, that's because, well, they did.
You'll recall when the then No. 4 ranked Nittany Lions went to Iowa to take on the No. 3 ranked Hawkeyes in 2021, fans booed when defensive captain P.J. Mustipher went down — ultimately tearing his ACL, and an assistant coach on Iowa's sideline flopped like a fish as a Penn State player was down on the field, insinuating Penn State was faking injuries throughout the game.
Iowa found out on Saturday night, when they stepped into the lion's den with over 110,000 rabid fans seething on, that Lions never forget.
Notably, Penn State Football edge rusher Chop Robinson flopped, in celebration, of a fourth quarter strip-sack of McNamara.
"[Coach Franklin] showed us some of the things they did in 2021," Robinson told reporters, after the game. "With the special teams coordinator on the sideline flopping, and stuff like that. Their head cocah was saying stuff 'smelled like a rat,' when some of our guys went down."
Afterwards, according to a report from The Athletic, defensive end Dani Dennis-Sutton even FaceTimed Mustipher, from his locker, after the game.
It almost goes without saying that Penn State drove home its point, while notching an early-season signature victory.
Penn State Football showed it can dominate when wielding an emotional thunder stick, but also that this is one of the most talented and balanced teams in the nation.
3 Things we learned from Penn State Football Throttling Iowa
The Defense Rests
The controlled freneticism of defensive coordinator Manny Diaz defense was on full display for the 110,830 ghostly clad Lion fans along with a national audience.
The Nits "D" limited McNamara to just 5 completions on 13 attempts for a miserable 42 yards in the first half. He finished the night 5-14 for 42 yards (yes, you read that right).
Penn State's defense held the Hawkeyes to just two first downs in each half for a grand total of, wait for it, four total first downs on the evening.
The Michigan transfer was sacked three times and hurried six more before being mercifully replaced by back-up Deacon Hill early in the final quarter.
Diaz' defense also forced seven Iowa punts on their 10 possessions and were only on the field for a mere 14:33 minutes of game time.
I'm not sure I've ever seen such a lopsided time of possession statistic as I did in last night's so called "contest."
It's the first time a PSU team shutout an AP top 25 team since 1999 when they blanked Texas A&M in the Alamo Bowl back in late December of 1999.
The Lions have picked up right where they left off last year when they held their final five opponents to just 12 points per game.  While the Nits are only through one third of their season they've actually improved on that number holding their opponents to a scant 8.75 points per game after four games.
More TAKEAWAYS from Last Night
I'm not sure I'll ever get tired stressing the importance of turnovers.
It's the top statistic on any game sheet that is THE biggest indicator of success versus failure – a.k.a wins versus losses.
So far, Penn State gets an A+++ in this critical category.
Add four more to their total as the Lions forced three Hawkeye fumbles on the three possessions that didn't end up in a punt and added another on one of their punts that glanced off of Hawkeye Mason Stahl's back only to be recovered by Penn State's Curtis Jacobs in the 2nd quarter.
Penn State quarterback Drew Allar quickly turned that miscue into seven points when he hit tight end Khalil Dinkins with a laser on a 4th and one from the Iowa nine yard line.
The Lions have turned 10 takeaways into 61 points in their last 12 quarters and are the ONLY team in Division I football without a turnover so far this season.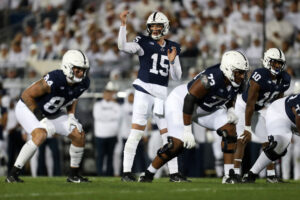 ALLARming Numbers
After a bit of a slow start, Allar showed why he might be playing on Sundays in the near future.  Penn State's first three possessions produced just three points,  but the first-year starter exploded after that, tossing four touchdown passes on the Lions' next six possessions, burying the Hawkeyes with a 31-0 lead early in the final quarter.
The sophomore star finished the night 25-37 for a very efficient 166 yards with four TDs and no interceptions.  He now has thrown eight touchdowns for 903 yards through four games with ZERO picks.
His big time arm, decision making ability and ball security is why this Penn State team has National Championship aspirations this season.
I know it's only four games, but right now the Lions look every bit as good as the hype that surrounded them entering the season.
A note to our readers; If you make a purchase through one of our affiliate links, we may receive a commission
About Author