Penn State Hockey Stomps Canisius to Open Season
Penn State Hockey routed Canisius in the regular season opener, 5-2, as the Nittany Lions begin their quest for a Frozen Four berth.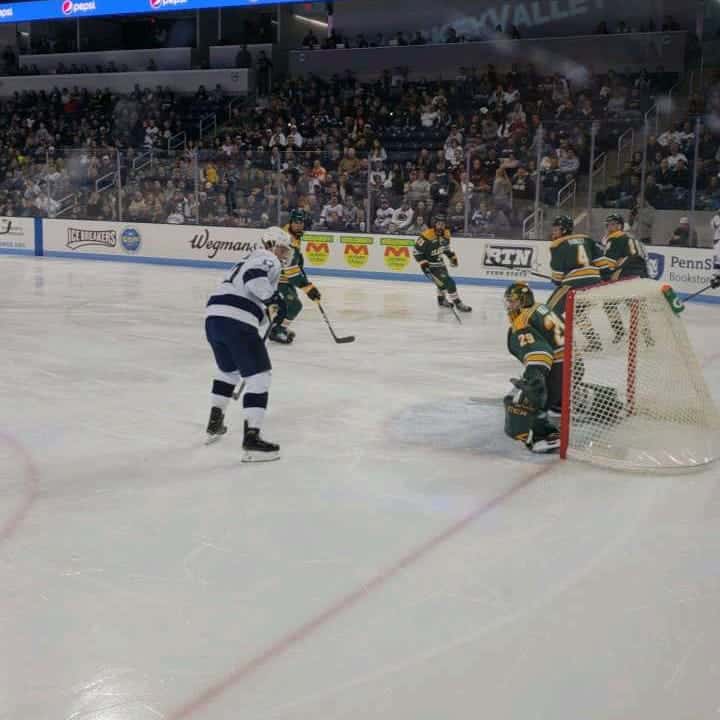 Penn State Hockey opened the season with a stellar 5-2 win against the Canisius Golden Griffins Friday night.
Transfer student from North Dakota, Ashton Calder scored the first goal of the 2022-2023 season, assisted on the powerplay by Jimmy Dowd Jr and Connor MacEachern.
The Golden Griffins had poor discipline early on during this physical affair. Cody Schiavon took a high sticking call, but it was another penalty immediately following that Calder capitalized on.
Following that momentum Ryan Kirwin scored for the Nittany Lions, a beautiful pass form Ture Linden set up the goal.
Linden is a senior transfer student from RPI for the Lions, previously earning the captaincy for his prior squad.
It stayed 2-0 Lions until the third period, where the Golden Griffins struck on the powerplay.
The Lions responded well, putting up two more goals, scored by Jimmy Dowd Jr and Conner MacEachern.
The Griffins ended up scoring one more before the empty netted by Kevin Wall solidified the win for the Lions.
Penn State Hockey 3 Stars vs. Canisius:
Ryan Kirwin and Ture Linden
Kirwin registered a goal and assist last night, while Linden compiled two assists.
These two line mates were building chemistry early on, as every single player on the line registered a point. Kevin Wall concluded this statement with his late game empty netted.
Liam Souliere
Earning the start, Liam Souliere made 34 saves and only allowed two power play tallies last night.
Penn State Hockey MVP vs. Canisius
Conner MacEachern
Registering a goal and an assist, MacEachern was a stellar offensive player for the Lions last night.
Next up Game:
Penn State Hockey aims to sweep tonight at 6:00pm in Pegula Ice Arena. I imagine Souliere will get another start, and build on the stability from last night. The top 6 forwards built chemistry early on, look for Kevin Wall's line to continue dominance.
A note to our readers; If you make a purchase through one of our affiliate links, we may receive a commission