Penn State Athletics Still Being Held Back by Paterno Name
It should go without saying that Penn State Football wouldn't be the brand that it is without Joe Paterno.
Paterno transformed a state agricultural school in rural Pennsylvania into a national powerhouse in college football. The Success with honor standard that was set has carried well into the James Franklin tenure. It is also no secret that Joe Paterno was already starting to lose his fastball the last decade or so of his time at Penn State.
From 2000-2011 Penn State won more than 10 games just three times and were just average for most of those years.
College Football has transitioned even more in the last 12 years as the television money has reached an all time high and teams began to focus on the facilities arms race.
That brings us to college sports in the modern day.
The introduction of the transfer portal and NIL over the last few years have changed the dynamic of the sport. No longer is it good enough to have great academics, an exciting stadium environment or tradition.
In Happy Valley, the facilities have finally seen some improvements, but it only took James Franklin begging and screaming for that to happen.
There is a split in the fanbase that is holding Penn State back from reaching its potential on the National level.
Half of the fanbase believes that the Paterno method of "Success with Honor" is still the way that Penn State Football players should operate. The newer generation is more in the camp of letting the large Penn State Alumni base use their reach to compete in the NIL and football facilities arms race.
This isn't to say that the younger generation of Penn State fans doesn't respect the traditions that make Penn State special, we just want to experience the success that have become great stories at the tailgates.
The only way to do that is to compete with the Ohio States and Michigans in the Big Ten or the top SEC schools is to step up the NIL reach and continue improving facilities.
Gone are the days of traditional amateur football players and employment is most likely the next step within the next 5-10 years.
That brings us to the issue at hand, the Paterno name is holding Penn State back.
Joe Paterno's legacy was effectively tarnished in the eyes of public and national media after the Sandusky scandal, and it has taken over a decade for Penn State to distance itself from those horrific acts.
While I do believe that Joe Paterno did what he was supposed to do in passing what he was told up the chain to the athletic director and president, that is irrelevant now.
What now needs to happen is for Penn State to progress into a new era.
Yet, we still have plenty of former Joe Paterno supporters that are preventing this from happening. One of which is his son Jay Paterno who had coached under Joe in his final few years as head coach of the Nittany Lions and now sits on the board of trustees as an alumni elected official.
Jay Paterno, Anthony Lubrano, and Alice Pope all seek to be re-elected for their board seats this spring. All three voted against the $48 million football facility upgrade and have been holding back Penn State football from reaching its potential.
Recently on the Lions247 podcast current board of trustees member and former football player Brandon Short mentioned how a select few individuals do not want to pour as much money into NIL and facilities to help Penn State keep pace. There was even a comment that after Penn State won the Rose Bowl, two board members refused to shake head coach James Franklin's hand at the celebration dinner and have been an opposing force ever since he was hired.
It is speculated by many that these two individuals are Jay Paterno and Anthony Lubrano as Short wouldn't come out and directly call them out.
This is insane to me, the fact that you can't at least shake the hand of the  man who has now delivered four 10-win seasons, and a 3rd New Year's Six bowl win in less than a decade at the school. 
Short goes on to say how he is super impressed with how James Franklin has recruited considering he essentially has one hand tied behind his back.
What makes it worse, is that a few of these individuals are involved with Success with Honor, a NIL Collective designed to help all PSU athletes.
A few months ago when then head basketball coach was on a call with Success with honor requesting more NIL funding to field a better team, he was interrupted and made aware from the very beginning that the collective has 31 other sports to worry about.
That is certainly not what you want to hear when your program is already dead last in the conference in NIL!
Many believe this is one of the contributors to Micah Shrewsberry leaving after just two seasons to take the job at Notre Dame.
This isn't to say that Success with Honor isn't doing great things they absolutely are! There are just a few people who have been holding the collective back a little from supporting the players from the top sports with NIL money.
The priority for NIL collectives should be Football, Men's Basketball, Wrestling, and Men's Ice hockey.
Football and Basketball are profitable sports annually, while Hockey has been profitable in the past and often operates just a small loss in down years. Wrestling has become a dynasty under Cael Sanderson and can bring in a lot of money to both the athletic department and NIL collectives due to its passionate local support.
If these top four sports are supported through NIL and become more successful it will help lift the athletic department as a whole and ultimately allow for more NIL money to flow through an organization like Success With Honor and reach the smaller sports.
How Does Penn State Fix This?
The Penn State Board of Trustees Alumni voting is underway and ends May 4th.
Both Brandon Short and former Penn State great Michael Mauti have given their support to candidates Randy Houston, Ali Krieger, and Uma Moriarity for the 2023 election.
Mauti and Short are heavily involved with the Lions Legacy Club which is an NIL collective exclusively for Penn State Football student athletes.
This is an easy way for alumni to let their voices be heard and help get Penn State back to the top in not just football but all sports. I highly encourage all Penn State Alumni to VOTE and check out the different NIL Collectives.
You can support Penn State Athletes through NIL at each of the links below:
Link for Lion Legacy Club: https://lionslegacyclub.com/
Link for Success with Honor: https://successwithhonor.com/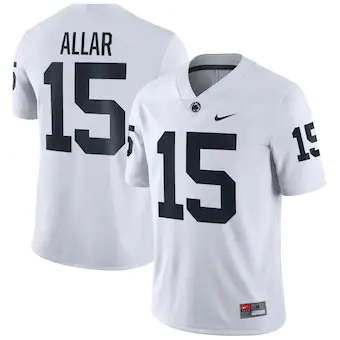 Support Penn State Football QB Drew Allar directly, by clicking the image above to purchase his officially licensed NIL jersey.
A note to our readers; If you make a purchase through one of our affiliate links, we may receive a commiss
About Author