James Franklin's Impact: Key Coach for Penn State Football Future Success May Surprise You
Over his tenure as Penn State Football head coach, James Franklin has continuously put together staffs with talented football coaches and recruiters.
Over his nine years in Happy Valley, three of Franklin's assistants have gone on to become head coaches; Ricky Rahne at Old Dominion, Joe Morehead at Mississippi State, and Brent Pry at Virginia Tech.
On the 2023 Penn State football staff, Franklin has a top five defensive coordinator according to PFF in Manny Diaz and the Big Ten's recruiter of the year according to 247 Sports in Ja'Juan Seider.
However, the most important coach for Penn State's future as a program may not be on the Penn State football staff at all.
Who May Hold Key To Future Of Penn State Football?
When Penn State takes the field against West Virginia on September 2nd, all indications point to Penn State Football trotting out the highest rated quarterback in James Franklin's tenure to lead the Nittany Lions' offense.
Penn State Football fans have exceedingly high expectations for the former five-star quarterback Drew Allar this season, hoping he can be the springboard Penn State needs to make its first College Football Playoff appearance and return Penn State to the Big Ten Championship Game for the first time since 2016.
At the same time, Penn State will be looking to continue keeping the relationship it has with 2024 quarterback commit Ethan Grunkemeyer to push to get his signature on signing day.
If everything goes to plan for Penn State, Allar and Grunkemeyer may only share one year on the Penn State football team, but it's what they share away from Penn State that may have the biggest impact on Penn State's future success.
Both Allar and Grunkemeyer share the same quarterback coach in Ohio, Brad Maendler from QB Excelerate.
B4 & After…Penn State QB Drew Allar. Check out the stunning transformation during Drew's 2-year journey to become the best version of himself. Shout out to Bryan Alberty at @AthletesFoL for helping Drew transform his body. @AllarDrew #WeAre #QBExcelerate pic.twitter.com/Rudv5S627h

— Brad Maendler (@BradMaendler) February 3, 2022
Allar has worked with Maendler for over three years now, completely changing his mechanics and developing into the quarterback of the immediate future for Penn State.
When Allar began working with Maendler, Allar was ranked as a three-star prospect that ranked outside of the top 400 players in the country according to the 247 sports player rankings for the 2022 class.
By the time Allar signed with Penn State, Allar had reworked his throwing motion with Maendler and was ranked as a five-star prospect that ranked 3rd in the 247 Sports 2022 class. On breaks from Penn State, Allar continues to return to Ohio to work with Maendler and continue his development.
Last Friday with Ethan Grunkemeyer's commitment to Penn State, Allar added both a future teammate and current workout partner with Maendler.
Penn State Football fans can hope that Maendler can help Grunkemeyer to a historic rise similar to his predecessor Allar, which may have begun last weekend when Grunkemeyer became the only quarterback from the State College Elite 11 Regional to be invited to the Elite 11 finals.
With one season left before signing day and plenty of time to develop over the summer with Maendler, Grunkemeyer begins a vital time for his development.
With Allar and Maendler working with Grunkemeyer this summer, the sky is the limit for his potential and only time will tell how high Grunkemeyer can rise in the rankings.
Olentangy (OH) QB Ethan Grunkemeyer is one of the hottest QB prospects in the Midwest.

Why you ask??

His Jr game film is fantastic and he's a literal human jugs machine. 99% of his throws look just like this. + arm strength, + ball placement and + spin rate. #QBX🎯💪🌪 pic.twitter.com/JGHhIB6slj

— Brad Maendler (@BradMaendler) March 30, 2023
While Penn State's current staff members will be the ones calling the plays and developing Penn State's roster at practices, the most important developments for Penn State's future success may be being made behind the scenes, and in Grunkemeyer's case, years in the future.
If Brad Maendler can strike lightning twice in three years, Penn State may be set at quarterback for at least the next four seasons and see success that the program hasn't seen since 1986. The future of the Penn State quarterback room is bright and may be getting brighter as Maendler works his magic.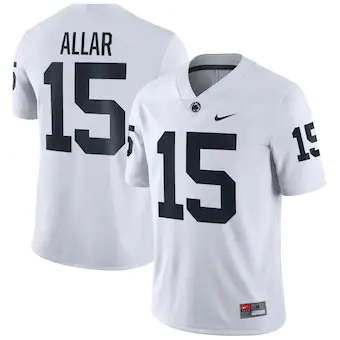 A note to our readers; If you make a purchase through one of our affiliate links, we may receive a commission
About Author