Penn State Football ranked for first time in 2022 season
Penn State Football made its debut in both the AP top-25, and Coaches Poll, following a blowout win over Ohio, and ahead of a clash at Auburn.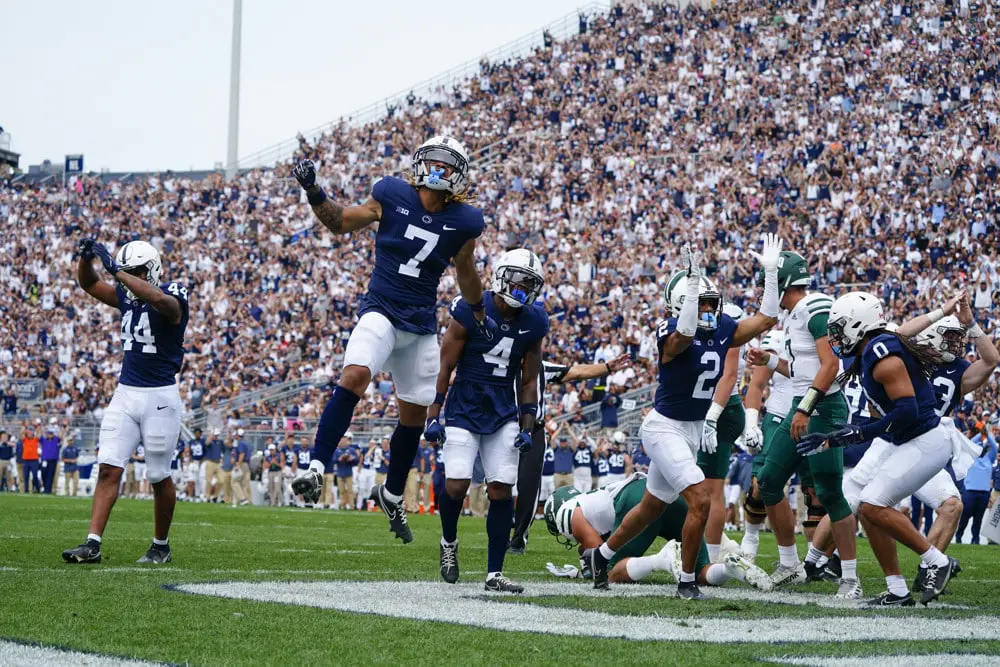 Penn State Football has entered both the AP and Coaches poll for the first time this season, following Saturday's blowout win over Ohio.
The Nittany Lions are off to a 2-0 start, with a big matchup at Auburn in week 3.
Penn State Football will enter that matchup ranked No. 22 in the AP Poll, and No. 23 in the Coaches Poll.
It is good to see the Lions getting some respect in the polls, especially after their tough road win at Purdue to open the season, followed by handling its business at home against a MAC opponent in Week 2.
It will be interesting to see if Penn State Football being ranked heading to Auburn will elevate the already big non-conference clash into a tougher environment.
Key Movements in the Poll
Biggest Risers:
Kentucky moved from No. 20 to No. 11 after its big win over Florida.
Tennessee jumped nine spots from No. 24 to No. 15 after their tough road win over a ranked Pittsburgh team. Meanwhile, BYU rocketed up from No. 21 to No. 12 after their win over then Top-10 Baylor.
Arkansas also moved up six spots from No. 16 to No. 10. Georgia took the number one spot from Alabama and received 53 of the 63 first place votes. There are 3 new teams who entered the Top 10 this week with Oklahoma State, Kentucky, and Arkansas.
Biggest Fallers:
Notre Dame took the biggest fall in the polls this week after their shocking loss to Marshall going all the way from No. 9 to unranked.
Meanwhile, Texas A&M dropped 18 spots to No. 24 after their shocking loss to Appalachian State at home. Other large drops included Baylor from No. 9 to No. 17, Florida from No. 12 to No. 18, and Pittsburgh from No. 17 to No. 23.
What will it take for Penn State to move up in the poll?
This is the type of game that the Nittany Lions just need to survive and advance.
While Auburn isn't as solid of a football team in past years, going into an SEC road environment will be tough regardless. Now that Penn State is ranked, expect the home crowd to be even more amped up than usual.
If Penn State Football takes care of business they should move up a few spots just simply from other ranked matchups and any unpredictable upsets like what we saw in week 2.
Key Games to watch Week 3:
No. 13 Miami at No. 24 Texas A&M
This is one of few ranked matchups for Week 3 and Penn State fans should be cheering for Texas A&M to pull out a close one against Miami at home. Miami losing would offer a potential chance for the Nittany Lions to move up with a win over Auburn.
No. 12 BYU at No. 25 Oregon
BYU is riding high off their big win over Baylor, but they will have a tough road test against an Oregon team that will be looking to get their season back on track. A BYU loss would eliminate another undefeated team and offer more potential move up spots.
No. 11 Michigan State at Washington
With a lack of ranked matchups this game will operate in the primetime ABC slot.
While Michigan State is ranked ahead of the Nittany Lions, it will be better for the strength of schedule if they win out in Seattle.
A loss however will open up the opportunity for Penn State to move up in the short term so this game is really up to your own personal interest.
UTSA at No. 21 Texas
Texas shocked everyone last week with a close 20-19 loss to then No. 1 Alabama and it allowed for Texas to move up to No. 21 in the poll. They bring a tough UTSA team to Austin this week who lost a heartbreaker to Houston in the first week before defeating a solid Army team in week 2.
The Longhorns could be primed for an upset after an emotional loss the week before, keep an eye on this game as potential for one of the biggest upsets of Week 3.
A note to our readers; If you make a purchase through one of our affiliate links, we may receive a commission