Penn State Football Recruiting Has High Profile List of Blue and White Game Visitors
Penn State Football will have the opportunity to impress numerous recruits this weekend during the Blue White Game.
The Spring game is the biggest recruiting event of the spring for the Nittany Lions, and this year is no different. Recruits from all over the country will flock to Happy Valley this weekend to get their first look at the 2023 squad and to take part in the weekend long festivities.
Penn State Football is in the process of creating two more strong recruiting classes in both 2024 and 2025. The 2024 class currently ranks No. 9 in the nation with eight commits, while the 2025 class ranks fourth in the country with two commits.
The Nittany Lions will use this weekend to attempt to reel in more elite talent to both classes.
5 Penn State Football Recruiting Targets who will be on campus this weekend that you should be paying attention to.
4-star WR Jerrae Hawkins (2024)
According to Brian Dohn of 247 Sports, Jerrae Hawkins, one of the fastest wide receivers in the 2024 class, will be in attendance for the game on Saturday. 
Originally from Maryland, Hawkins played high school ball in West Virginia before transferring to IMG Academy this year. Listed at 5-foot-9 and 165 pounds, Hawkins has drawn some comparisons to a former Penn State standout of similar stature in KJ Hamler.
The Nittany Lions would surely like to have a Hamler-type weapon back on their offense and they will have that opportunity with Hawkins.
4-star RB Kiandrea Barker (2025)
One of Penn State's top 2025 offensive targets, Kiandrea Barker, tweeted that he will be making the trip up from Texas for the weekend.
Rated as the No. 68 player in the country according to 247 Sports, the 5-foot-11 running back has shown serious interest in Penn State over social media.
Considering the production the Nittany Lions have had at running back lately, that shouldn't come as much of a surprise, but Barker being from Texas does make this more interesting. Penn State just landed its running back in the 2024 class in Quinton Martin, Barker may try to be the guy in 2025.
4-star OT Kevin Heywood (2024)
Dohn is also reporting that in-state 4-star OT Kevin Heywood will be on campus this weekend. Heywood is one of the top offensive line targets for Penn State Football in the 2024 cycle, and that hasn't changed one bit. Listed at 6-foot-7, Heywood has some serious size and would be a welcomed addition to the offensive line group.
He's been on campus a ton over the past year or so, so look for the staff to try to push for a commitment either this weekend or in the coming weeks.
WR Quanell X Farrakhan Jr (2025)
Barker's high school teammate, Quanell X Farrakhan Jr. also tweeted that he will be up for the game this weekend.
Farrakhan currently is not ranked, as is the case with the majority of 2025 recruits at this time, but he does hold offers from Florida State, Georgia, Ole Miss, TCU and Tennessee. That gives a pretty good indication of the type of prospect he is expected to become.
If Barker commits to Penn State Football in the near future, it will be interesting to see if his teammate decides to join him.
Watch the 2023 Blue-White Game online FOR FREE by signing up for a trial of FuboTV
4-star OL William Satterwhite (2024)
Another high-profile recruit that Dohn and the 247 Sports team are reporting will be in Happy Valley is William Satterwhite from Ohio.
The 4-star interior offensive line target is listed at 6-foot-5 and 290 pounds and is currently rated as the No. 10 interior lineman in the 2024 class.
Satterwhite has a strong relationship with Penn State, but the likes of Alabama, Clemson and Georgia recently offered, making this a nation-wide recruitment. Penn State Football will use this weekend to try to fend off this elite competition.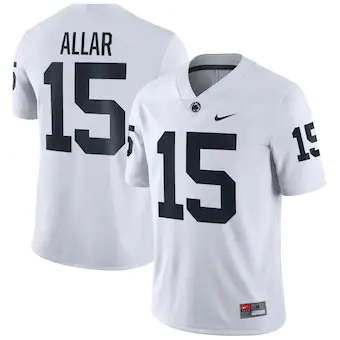 A note to our readers; If you make a purchase through one of our affiliate links, we may receive a commission
About Author