Penn State Football: Revisiting Preseason Bold Predictions After First 4 Games
Penn State Football has now finished one-third of the 2023 season with an unblemished record.
While the Nittany Lions have struggled a little at times over the first four weeks, the first third of the season has overall been somewhat comfortable for Penn State from both a winning standpoint and on the injury front.
With one-third of the season complete, I wanted to look back at my five bold predictions for the Nittany Lions to see how the predictions were going. Here is a look back:
Nick Singleton does NOT lead the team in rushing attempts or rushing touchdowns.
Through one-third of the season, Kaytron Allen has led the team in rushing attempts and rushing yards.
While the carries have been somewhat closely split (63 for Allen and 53 for Singleton), Allen does have 77 more yards on the season (280 for Allen versus 203 for Singleton) and a higher average (4.4 yards per carry for Allen versus 3.8 for Singleton).
Singleton's three-touchdown game did give him a commanding lead in rushing touchdowns with a five touchdown to two touchdown margin.
Penn State's running game still has yet to fully unleash the power that Penn State fans saw last season and neither back has broken off a "homerun" type run.
Penn State will surely look to continue focusing on the rushing game to get Singleton back to last year's form with more explosive runs. With one-third of the season complete, this bold prediction is half-correct, with plenty of football left to play.
Neither starting defensive end leads the team in sacks.
One-third of the way through this season, this bold prediction is correct.
Neither Chop Robinson or Adisa Isaac is leading Penn State in sacks. Penn State's sack leader so far has been Coziah Izzard, who missed the first two games with an injury. In his return to action in game three against Illinois, Izzard sacked Luke Altmyer twice to take the team lead in sacks.
Through four games, Penn State's pass rush has been spread around, with 11 players recording at least one sack. With eight games remaining in the regular season and Chop Robinson breaking out against Iowa, I am not feeling very confident about this bold prediction, even if it has been correct through four games.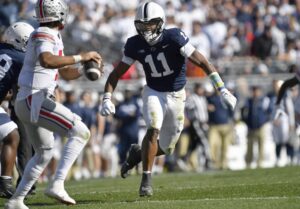 The team leader in interceptions is a linebacker.
Through four games, this bold prediction is technically true, as five different players have an interception for Penn State, including two linebackers Dom Deluca and Abdul Carter.
While I specifically projected the leader to be Curtis Jacobs, two linebackers are tied for the lead for Penn State.
Manny Diaz's defense has been absolutely dominant through four games, creating 10 turnovers on the season and leading the nation in many defensive categories. Through the next eight games, the defense will likely create many more turnovers so this bold prediction is still up in the air.
A wide receiver is not among the top 3 in touchdown receptions for Penn State Football.
Through four weeks in the season, I will say I was wrong on this prediction.
The wide receiver position was a huge question mark for Penn State coming into the season. KeAndre Lambert-Smith had shown flashes of his high potential, but never put it all together for the Nittany Lions.
Through four games this season, Lambert-Smith has established himself as a true number one wide receiver target for Penn State and has been putting up the numbers to accompany that position. Lambert-Smith has 21 catches for 286 yards and three touchdowns on the season, averaging 13.6 yards per catch.
While Tyler Warren's two touchdown performance against Iowa gave him the Penn State lead in touchdown receptions, Lambert-Smith is firmly in second as the only other Nittany Lion to catch multiple touchdowns in 2023.
Unless something goes wrong for Lambert-Smith in the next eight games, this bold prediction is likely to not come true.
Penn State Football returns two or more kicks for a touchdown.
So far, this has been my furthest bold prediction from coming true, partly because Singleton has only had the opportunity to return five kicks through four games this season.
Games like the White Out against Iowa make this prediction hard to come true with Iowa only kicking the ball off one time in a 31-0 shutout.
Against Michigan and Ohio State who may score more points and therefore kick the ball off more, Singleton will have a chance later in the season to break a few longer returns.
Through one-third of the season, 2.5 of my bold predictions are in the green. With plenty of football left, there is time for the rest to come to fruition as Penn State hopes to continue its excellent start to the season through the next eight to 11 games.
A note to our readers; If you make a purchase through one of our affiliate links, we may receive a commission
About Author