No. 11 Penn State Football vs. Northwestern Picks, Predictions | College Football Week 5
No. 11 Penn State Football aims to remain unbeaten before the teeth of the Big Ten schedule gets underway, when the Nittany Lions host Northwestern on Saturday.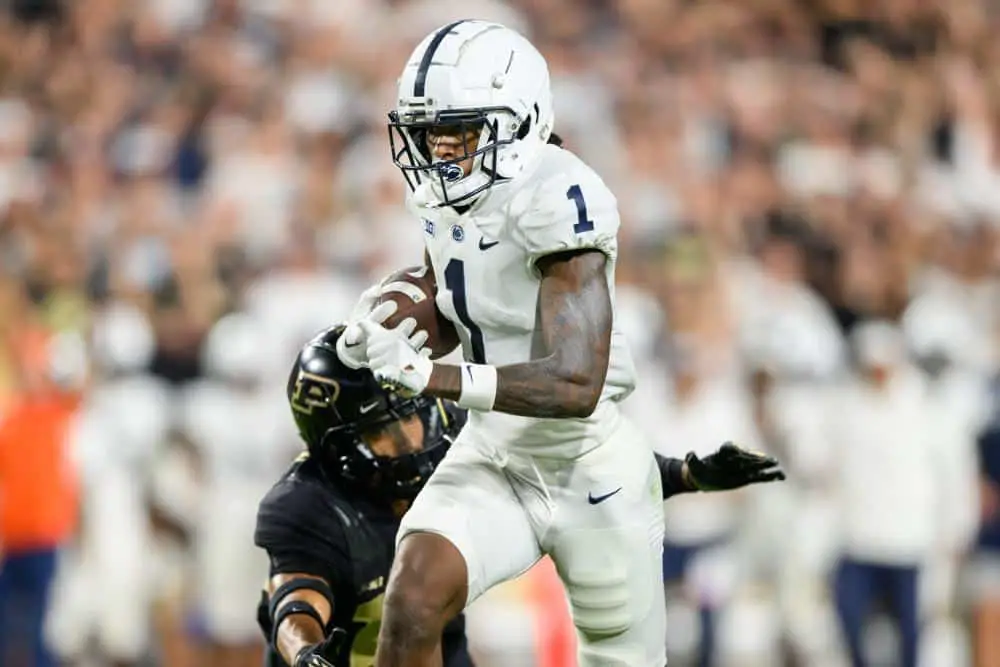 If there is such a thing as a 'tuneup' in the conference schedule, No. 11 Penn State Football gets one more, Saturday against Northwestern, before the teeth of a slate that includes dates at Michigan, against Minnesota, Ohio State, Michigan State, and others looms.
James Franklin's Nittany Lions enter Saturday's 3:30 p.m. kickoff against the Wildcats unbeaten, and knocking on the doorstep of the top-10 in both polls.
Saturday afternoon, the Lions have the chance to continue to fine-tune an offense that has been built on the foundation of a dominant running game and continue to build up steam with a defense that has swarmed to the football early on.
Here are our picks, predictions for No. 11 Penn State Football vs. Northwestern on Saturday afternoon:
Patrick Sweda – Football Writer
Penn State Football looked to be sleepwalking last week against Central Michigan, coming off an emotional win at Auburn.
Expect the Nittany Lions to bounce back against a struggling Northwestern squad.
After their opening win over Nebraska in Dublin, the Wildcats have lost three straight home games to Duke, Southern Illinois (FCS), and Miami Ohio.
Penn State Football is the far more talented team, and should be able to cover the spread.
With some more players getting healthy on the defensive line, the Wildcat offense will struggle for most of the afternoon.
Keep an eye on the weather this weekend, because a rainy game could prove to be in Northwestern's favor and make the game closer than originally thought.
Prediction: Penn State Football 35, Northwestern 3
The Wildcats come hobbling into Beaver Stadium this Saturday with a 1-3 record and -25.0 point underdogs.
No disrespect to Northwestern, but this is a game Penn State Football should dominate in every facet.
Northwestern has been absolutely brutal on both sides of the football so far this season.
Remnants from Hurricane Ian will play a factor in my score prediction, but I've got Penn State riding high off a win headed into the bye week.
Prediction: Penn State Football 38, Northwestern 13
Dave Malandra, Jr. – Football Writer
The Nittany Lions return back to Conference play as they have a very intriguing matchup against northwestern.
A key thing to keep an eye on is, if Sean Clifford struggles early when does James Franklin make the change to Drew Allar?
Prediction: Penn State 27, Northwestern 23
A note to our readers; If you make a purchase through one of our affiliate links, we may receive a commission.