No. 7 Penn State Football vs. West Virginia: 3 Bold Predictions for Week 1
Penn State Football will finally kick things off for real in 2023, renewing an old rivalry with West Virginia under the lights in Happy Valley. 
All the off season talk, hype and speculation will end and we will have football to discuss and a chance to see if the 7th ranked team in the country can live up to the preseason expectations. 
Before we get things started, let's take a stab at some bold predictions from what will take place in Beaver Stadium Saturday night. 
Penn State Football vs. WVU Bold Predictions
3. Penn State's offense puts up a 50 burger 
West Virginia is coming off of a disappointing 2022 campaign going 5-7 and missing a bowl game putting head coach Neall Brown squarely on the hot seat. 
The Mountaineers' defense was to blame for the underwhelming season, surrendering over 30 points in eight games, and 40+ in five of those eight games. They will be depending on a few key transfer portal additions to help on that side of the ball, but depending on that cohesion in week one, on the road could be a lot to ask. 
Obviously everyone is excited to see the starting debut of Drew Allar at quarterback, but the Nittany Lions should dominate the line of scrimmage and run the ball at will, leading to chunk, explosive runs by Nick Singleton and Kaytron Allen. 
James Franklin's squad makes a statement in week 1 and hangs a 50 burger on the Mountaineers. 
2. Penn State's defense records 8+ sacks 
West Virginia is known for a very veteran and very solid offensive line and will be what they hang their hat on coming into this game. 
The Mountaineers will want to run the ball and try to chew up the clock on Penn State, however, everyone has a game plan until they get punched in the face. If the Lions can jump out to an early lead, it will force WVU into obvious passing situations which could be trouble for them. 
Chop Robinson, Adisa Isaac and Dennis Dani-Sutton are waiting to hit a quarterback in 2023 and if they find themselves in a position where they can pin their ears back and get after the quarterback, it's going to be a long night for West virginia. 
The edge rushers mixed with defensive coordinator Manny Diaz's exotic blitzing schemes will prove to be too much for the Mountaineers offense, leading to a party at the quarterback all night long. 
1. Drew Allar lights it up and throws for 350+ yards through the air
We mentioned above the defensive struggles West Virginia had last season, giving up points in bunches against Big 12 foes. 
Something tells me offensive coordinator Mike Yurcich isn't going to come out conservative in this one, he's going to come out and let quarterback Drew Allar rip it around and jump on WVU early and often. 
Last season, the Mountaineers gave up an average of 262 yards per game through the air and were lit up by some very average passers at times.
If Penn State can protect, which they should be able to in this game and get the emergence of a third wide receiver, it could be an easy night for Allar and the offense. 
Allar gets the Heisman trophy buzz started early, and slings it all around on West Virginia.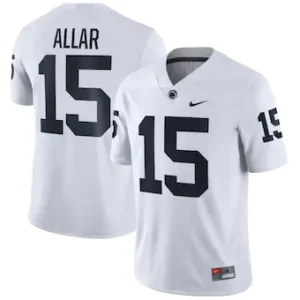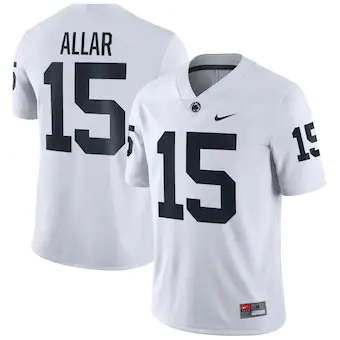 A note to our readers; If you make a purchase through one of our affiliate links, we may receive a commission
About Author