Penn State Hockey cracks BucciMane preseason rankings
Penn State Hockey garnered some national recognition, making John Buccigross' preseason College Hockey rankings.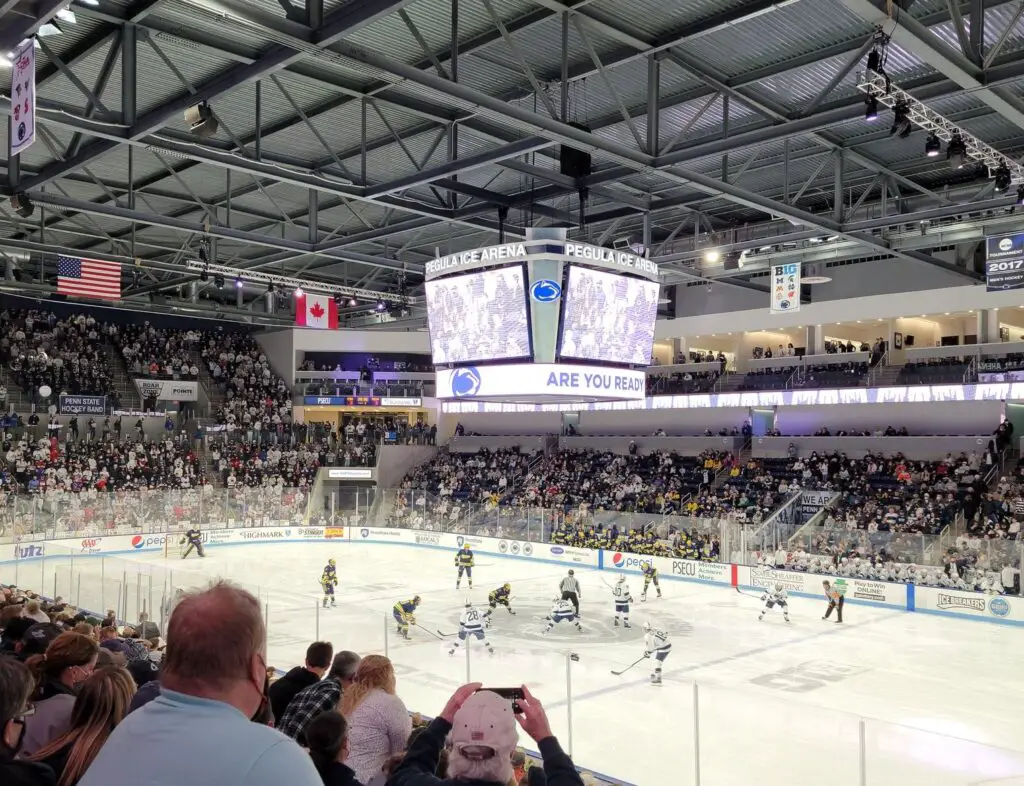 Last week, John Buccigross built his top 16 preseason college hockey rankings, and Penn State Hockey made the cut.
The Nittany Lions, according to Buccigross, are the No. 16 ranked team in College Hockey.
BucciMane is known for his overtime goal predicting twitter challenges, and more commonly for being an excellent ESPN analyst since 1996. Throughout his career, Buccigross has become a fan favorite by Shining light on NHL topics and now all things college hockey.
Preseason BucciMane#cawlidgehawkey Top 16
1 Denver
2 Minnesota
3 NorthDakota
4 Notre Dame
5 MinnesotaDuluth
6 Harvard
7 Northeastern
8 Quinnipiac
9 Michigan
10 BostonUniversity
11 MinnSt
12 Providence
13 UMass
14 Bemidji St
15 UConn
16 Penn St pic.twitter.com/TmJ3w0Pj54

— BucciParmPastaKnack(next) (@Buccigross) August 16, 2022
A major step for the Penn State Hockey program
The Penn State Hockey faithful has come to embrace being ranked outside the elite in recent years.
For the 2020-2021 season, the USCHO had lions' hockey ranked 16th through games played prior to April 10th. It's obvious with the roster the Nittany lions have, respect must first be earned before given.
Numerous players must step up into leadership roles such as Kevin Wall, Paul DeNaples, and Liam Souliere.
The Big Ten is also known for its fierce competitiveness that grows each season. Three other big ten teams joined PSU in Bucci Manes top 16 (Minnesota No. 2, Notre Dame No. 4, and Michigan No. 9). That would assume over half the big ten conference would be battling for a national tournament spot, with one team having a chance to win the conference outright, gaining an automatic bid to the big dance.
The last Big Ten team to make it to the national championship game was Notre Dame in 2018, the final score being 2-1 in favor of Minnesota Duluth. Past Big Ten runner-ups also included Minnesota in 2014, final score favoring Union (7-4).
<< BUY PENN STATE NITTANY LIONS GEAR >>
The point is, Bucci Mane made these rankings 44 days out, yet still threw Penn State Hockey at No. 16. Even though the USCHO preseason rankings of April 11th, 2022, the national poll did not include them within the top 20.
To summarize, Penn State Hockey needs to ride with this ranking.
Deep down, Bucci Mane knows that no matter how competitive the Big Ten gets each year, Penn State Hockey never goes away completely. The Lions find a way to hang on until the end, even if it means never being ranked within that top 10.
Enjoy the ride of new faces around Penn State hockey solidifying stellar goaltending, top-six forward scoring, and a stable backend.
A note to our readers; If you make a purchase through one of our affiliate links, we may receive a commission