Penn State Wrestling: What Will Middle of Nittany Lions' Lineup Look Like? | MAILBAG
But, that doesn't mean it's not a good time for a wrestling mailbag. Because it's always a good time for some mailbag questions!
We asked
you
Nittany Lions
Nation if you had any burning question surrounding the Penn State Wrestling Team and you certainly obliged.
So with that, let's dive into our first preseason wrestling mailbag.
Jessi Lillo
My biggest question is what is going to happen in the middle of the lineup. Cael had said last year that he wasn't sure if Levi could stay at 157. We could have Haines, Facundo, Mesenbrink, Barr, Mirasola and Starocci all clustered around 165/174. Not a bad problem to have, just wondering if you have heard about any other than Starocci considering a redshirt?
You are 100% correct.
Penn State's lineup
between 157/165/174 is an absolute log jam of highly competitive, proven, and highly recruited wrestlers.
And as you mentioned, this is never a bad thing when you're coming off your second straight NCAA team title and a decade plus of dominance not seen since Iowa's run in the 70's and 80's.
But so far the word out of the Nittany Lion wrestling room has been very minimal regarding how things will shake out in the upcoming season.
Mitchell Mesenbrink will absolutely make an appearance or two in dual meet action at 157 and I wouldn't be surprised if the same goes for Tyler Kasak at 157 and Josh Barr at 174.
As for the following season, here's what I'm projecting for the middle to upper weight classes:
157
Starter – Mitchell Mesenbrink
Backup – Tyler Kasak
165
Starter – Levi Haines
Backup – Joseph Sealey
174
Starter – Alex Facundo
Backup – Josh Barr
184
Starter – Carter Starocci
Backup – Connor Mirasola
197
Starter – Zack Ryder
Backup – Cole Mirasola & Lucas Cochran
I believe there will be a ton of movement between weight classes as Haines will move to 165, Facundo bumps up to 174, and Starocci takes over for Truax at 184. Mesenbrink's ideal weight would be somewhere between 157 and 165 but I believe with his frame he can still go at 157.
This leaves plenty of room for guys to grow into their bodies and it leaves room for the incoming classes to get some run in the starting lineup at times and in invitationals and opens.
Even though there are many moving pieces to this puzzle, one thing is for sure. The Nittany Lions aren't going anywhere anytime soon in the pecking order of collegiate wrestling.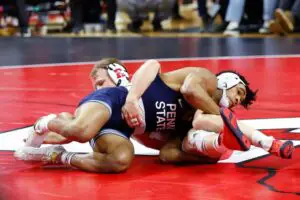 Tom Means
Starocci at 174 this year and go for #5 up a weight??
Kevin Reeder
What percent chance would you say that Starocci wrestles for PSU this year? How about Brooks?
Yep, I knew this question would come up.
And rightfully so, because it's a big deal if Penn State might not have one or both of their only returning NCAA champions.
This doesn't answer either question but the fact I do know is that both
Starocci
and Brooks are on campus for the fall semester and they are taking classes. Which by itself doesn't mean anything one way or another, however it's not a bad sign.
I'm going to say this for my percentages:
Carter Starocci 92%
Aaron Brooks 75%
I know Carter Starocci basically put the entire wrestling and MMA world on full notice in his interview at last year's NCAA Championships after pinning Nebraska's Mikey Labriola in the final.
But, as far as the Olympics go, he's in a tough position weight wise.
If he goes down to 74 kg (163 lbs) then Kyle Dake is in the way. If he goes up to 86 kg (189.5 lbs) then he'd have to get through David Taylor and Aaron Brooks.
Carter's time to shine on the international stage of wrestling will come, but I just don't think it will be this upcoming season.
As for Aaron Brooks, he has fully cemented himself as the No. 2 at 86 kg. Which is why I think there's a better chance he takes the Olympic redshirt and misses this season. Although I could also see a scenario in which he trains for both the Olympics and for Penn State.
If there's a highly driven guy who could do both, then look no further than Aaron Brooks.
Regarding Starocci coming back next year and potentially becoming the first, and possibly only, five-time NCAA champion in wrestling history? If he does come back next year then, yes, I do have him at 184 pounds and I don't see anyone in the country getting in his way for No. 5.
Brad Hahn
I read somewhere that PSU was granted permission by the NCAA to have an A and B team in wrestling. Never heard another word about it. I'm assuming it wasn't factual but who knows. Any information?
I'll be honest, when I first read your question I had never heard of this before.
And, after doing some research, I'm still not able to find anything definitive regarding your question and if it pertains to Penn State.
The only item I found that references both a Team A and a Team B is the NCAA 2022-2023 Wrestling Case Book. This document is a general overview of all of the rules for NCAA wrestling.
The document does mention "Team A" and "Team B" in numerous sections but it's merely to represent two different teams. For example "Team A" could be Michigan and "Team B" could be Penn State.
Unless I can find anything elsewhere, I'm going to say what you heard wasn't factual.
However, hypothetically speaking, it would be pretty freaking awesome to see the Penn State roster split down the middle talent-wise and then unleashed on the rest of the country.
Could you imagine what a Penn State A vs. Penn State B dual meet would look like? It would be crazy!
Brendan Bosko
Any insight on Howard's health? I'd love to see a healthy Howard at 125.
From everything I've heard so far out of the Penn State wrestling, they are cautiously optimistic about Howard for this year.
But here are three facts:
-The shoulder is the most complex joint in the body
-The shoulder never heals to it's original functionality following a significant injury
-Robbie Howard missed each of the last two seasons due to setbacks to his surgically repaired shoulder
The main hurdle for Howard is to see if his shoulder can hold up to a full load of wrestling (practicing, training, lifting, etc). All indications are that Howard will be the main guy at 125 this season. And as long as he can be eased into the season and not suffer any additional setbacks, then I'm optimistic as well.
But, if he's not able to go or if he misses a lot of time, there are plenty of options in the wrestling room.
I for one am not doubting Gary Steen.
I think he learned A LOT last year and he could very well make some huge progress going into this season. There's also plenty of help on the way with Cael Nasdeo and Kurt McHenry entering the room.
And then the hammers of Luke Lilledahl and Mason Gibson are set to join the Nittany Lions next year.
Penn State has seen a lot of mixed results lately at 125 pounds, but that's going to end sooner than later.
Jessi Lillo
Question about the new TD3:
Do you think the new rule will decrease riding time and lead to more cutting and offense or do you think not much will change as a result of this rule?
The new three point takedown added by the NCAA Rules Committee for this upcoming season was intended to do several things. Namely increase the number of higher scoring, more offensive matches.
And to answer your question, Jessi, I think it will all depend on the matchup and the exact situation in each match.
For completely lopsided matchups where one grappler is clearly better than the other, you'll obviously see the cut/takedown technique which has been the norm anyway. The only difference is that technical falls will potentially happen much quicker in the matches.
For matchups where you have one wrestler who wants to get to their offense and one wrestler who is stronger on top position, then you'll probably see the stronger top position grappler try to get an initial takedown and ride for as long as possible. And, depending on the score and where they start in the second and third period, they may try to further push their riding to prevent the other opponent from getting to their feet and scoring takedowns.
The change in scoring may also produce more exciting comebacks that have never been seen before.
In the past, if a wrestler was down by five or six points in the third period, then their only real chance was to get a takedown and somehow either pin the guy or get four swipes. But these types of comebacks are Hail Mary's at best.
Now?
Takedown, cut, and another takedown and the score is tied if the guy was down by five points.
So, I understand the intention of the rule change, however there is the other side of the coin.
The dreaded unintended consequences.
What I think we WILL see this season could be an even worse version of the two point takedown rules.
Think how much stalling you saw when it was only two points for a takedown. And now it's worth 1.5x as much. The unintended consequence is that it's possible we may see more defensive matches where neither guy really wants to commit to a shot for fear of leaving an opening for his opponent.
Which brings me to my main point regarding the three point takedown. Due to there being a bigger risk of getting taken down in a tight match, wrestlers are going to attempt to stall even more than they did in the past. And due to this, the referees need to be 100% consistent and quick to call stall warnings at the very first sign of it.
Because if they don't, then slow, drawn out, defensive matches will be the norm between two evenly matched opponents.
And going back to this main point again, had the NCAA banged home to the referees to not allow incessant stalling in college wrestling and for the referees to be consistent, then there wouldn't have been any reason to raise the takedown points from two to three.
#foodforthought
A note to our readers; If you make a purchase through one of our affiliate links, we may receive a commission
About Author