Penn State Football: 2 Nittany Lions Make Bruce Feldman's Pre-season 'Freaks' List 
Bruce Feldman pegs Penn State Football safety Ji'Ayir Brown and tight end Tyler Warren for his annual preseason all freaks list in college football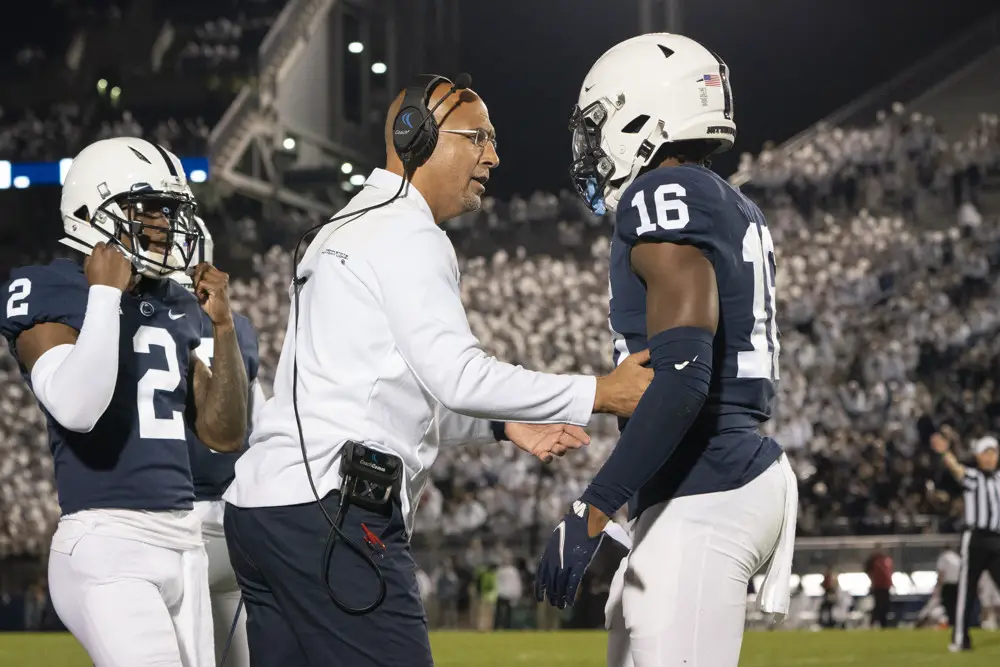 Another sign the 2022 Penn State Football season is just around the corner is when Bruce Feldman of The Athletic releases his annual freaks of college football list, highlighting the most freakish athletes in the sport for this coming fall.
The Nittany Lions have been well represented on this list in the past few seasons with the likes of Micah Parsons, Odafe Oweh, and of course Saquon Barkley to name a few.
Once again this year, two Nittany Lions made the cut: safety Ji'Ayir Brown and tight end Tyler Warren.
<< BUY PENN STATE NITTANY LIONS GEAR >>
Ji'Ayir Brown: PSU's next freak on defense
The senior safety Brown checked in at no. 69 on the list while Warren just barely made the top-100 list coming in at no. 89.
Feldman cites Brown as the Lions' next freak on their defense after he collected six interceptions, 73 tackles and two fumble recoveries last season.
Most fans know his stats and how good Brown was in 2021, however they likely don't know that he ran a 4.5 40 yard dash this offseason and during winter workouts he benched 370 pounds and power cleaned 345 pounds at only five-foot-eleven and 208 pounds.
Brown figures to be one of the better safeties and defenders in the Big Ten this year and should take a big step as a leader of this Manny Diaz defense. Last season he played second fiddle to Jaquan Brisker but this will be his defense this fall.
Tyler Warren: Versatile Freak
Tight end Tyler Warren has maybe the most interesting athletic background of any player on Penn State Football's roster. He was a high school quarterback and a standout on the hardwood as well as a basketball player, and his leaping ability has stood out on the football field.
The former quarterback only recorded five catches for 61 yards and a touchdown last season, but was also used as a wildcat quarterback on the goal line. It was first unveiled in the white out game against Auburn where he jumped over the top for a short yardage touchdown.
However, Warren's most impressive feats came this offseason when he showed off a 35 inch vertical jump to go along with a 350 pound bench and over 600 pound back squat.
Warren is in a crowded tight end room with Brenton Strange and Theo Johnson but none of those guys were able to take the job as TE1 last season and it opened the door for more chances as a pass catcher for Warren later in the season. His one touchdown reception was a tough, back shoulder grab on fourth and goal against Michigan in the fourth quarter of that game.
This time next year expect more Penn State Football players to be on Feldman's list and a few potential options could be cornerback Kalen King, defensive end Chop Robinson, linemen Landon Tengwall, and running back Nick Singleton.
READ NEXT: Making sense of Penn State's Coaches Poll snub
A note to our readers; If you make a purchase from one of our affiliate links, we may receive a commission