Penn State Football: 3 Keys to Knocking Off Ohio State
Penn State has Football been waiting for this week the whole season.
Penn State will have their 2023 season defined by Saturday's game vs the Ohio State Buckeyes.
There's no two ways about it, if James Franklin's team is going to make this year's CFP, they have to win this week's game and find a way to beat the No. 3 team in the nation.
Penn State Football is now 6-0, coming in at No. 7 for this week's pivotal Top-10 matchup and hasn't played a close game in a month
The Nittany Lions have handled every challenge thrown their way so far this season.
This game is going to be a much tougher test than any they have faced this season. OSU has been a thorn in Penn State's side for much too long now, with OSU winning six straight games in the matchup dating back to 2016 since Grant Haley's scoop and score game-winning TD at Beaver Stadium.
You'd have to go all the way back to 2011 since Penn State's last win in Columbus, it's been a very frustrating 0-5 record in those trips to O-H-I-O since.
This matchup has a very different feel to it.
This OSU team is another strong product of Ryan Day's command since taking over in 2019 but not as talented as others in years past.
Meanwhile, this PSU team has been a special unit so far on both sides of the ball. PSU stealing a signature upset win would do wonders for the program.
3 Penn State Football Keys to Upsetting Ohio State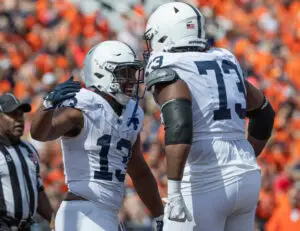 Establish the run on offense, set a physical tone early in the game
The best way to orchestrate an upset on the road is with a fast start.
Penn State Football has to come out rolling early, confident in their abilities and executing their assignments on offense.
Quarterback Drew Allar has done an impressive job all season commanding this offense, but this game has to be won running the ball old-school style.
Penn State needs to find a way to control the clock, get chunk plays rushing on first and second down to stay on schedule, and they need to be the more physical team early in the game. The Shoe will be rocking early and PSU has to weather the storm with a potent run game to shush the crowd early and often.
Through six games, the offense is averaging 203.3 rushing YPG with 17 rushing touchdowns so far. There is a wide blend and variety of players and abilities incorporated through the run game and everyone will again have to chip in to do their part to carry the load this week.
Make the proper adjustments needed during halftime to win the 2nd Half.
Penn State Football isn't likely to come out and flat out dominate this game for four quarters straight. It's not realistic and shouldn't really be expected to happen this week.
In a likely close game, mistakes and execution will be the difference in this game.
Avoiding unneeded penalties and long third downs will be critical, communication amongst Allar and the OL will be a huge focus, along with being able to incorporate play action passes off similar looks from run concepts.
Penn State has done a great job most of the season in the 2nd half of games. The last few weeks they have come out even stronger in the 2nd half to put the games away earlier than the 4th quarter.
This game, look for it to be a chess match between Franklin and Manny Diaz and Ryan Day and Brian Hartline. Both teams have excellent coaching staffs who will empty the sinks to win this game.
The team that comes out with better adjustments and new looks in the 2nd half may be the one who ultimately wins the game.
Win the Special Teams Matchup.
Maybe it's because of nostalgia and the aforementioned Grant Haley, but something has to give this game with regards to special teams.
PSU has been rather ordinary so far overall with the special teams units this year and the kicking game hasn't been rather impressive yet so far but they thankfully haven't needed it to be yet.
Games like this are circled on the schedule months in advance. Some players look forward to games like this more than others.
Many players rise to the occasion and seize moments like this, while others falter when the competition stiffens. It could be a muffed punt, a blocked FG, a long kickoff return, or the game-winning field goal, special teams is going to have an impact in tomorrow's game.
PSU needed special teams the most to beat OSU its last time in 2016, so why not something similar again?
Football is a weird game sometimes, one funny bounce or a mere matter of inches can make or break a game and an entire season. There haven't been many highlight reel plays so far from the special teams in 2023, but look for one of the units to come out and make a spark with a huge play tomorrow from an unexpected name.
A note to our readers; If you make a purchase through one of our affiliate links, we may receive a commission
About Author