What Drew Allar needs to show during Penn State Football Blue and White game
All signs point to former five-star quarterback Drew Allar taking the reins of the Penn State Football offense after 3 seasons with Sean Clifford in command.
While head coach James Franklin is calling it an "open competition," Allar's extremely high ceiling and arm talent that made him the number one quarterback and number three player overall on 247sports rankings with a perfect rating of 100.
Gabe Brooks, a scouting analyst from 247sports called Allar the "Most naturally talented thrower in the 2022 quarterback class" who "possesses immense upside."
Now, after gaining experience watching Clifford for a year and picking up limited game action, it is time for Allar to put his talent on display and prove he was worthy of his five-star ranking.
Here are a few things that Allar needs to show at the Blue and White game before taking over as Penn State's starter on September 2nd against West Virginia.
What Drew Allar Must Show During Penn State Football Spring Game
1. Accuracy
Penn State Football does not have a long history of accurate quarterbacks.
While all 4 of Penn State's most recent starting quarterbacks, Sean Clifford, Will Levis, Trace McSorely, and Christian Hackenberg, all rank among the top ten quarterbacks in Penn State history for completion percentage, in 2022, 66 FBS quarterbacks had better completion percentages than Penn State's record for completion percentage by a quarterback.
In order for Penn State's offense to be more successful and efficient, Drew Allar needs to become a much more accurate quarterback than any other quarterback in Penn State's history.
Starting this weekend in the blue and white game, Allar needs to show the pinpoint accuracy he has displayed on the practice field without pads.
Penn State QB Drew Allar just flat loves the work #stackingdays #WeAre #QBExcelerate🎯💪🌪 pic.twitter.com/DVgplsgDSE

— Brad Maendler (@BradMaendler) January 31, 2023
Allar's completion percentage, especially on first and second down, will be a huge part of whether the Penn State offense takes a step forward in 2023.
If Allar can complete passes on early downs setting up second and third and short situations, Penn State's dominant running game will keep drives moving and allow the Nittany Lions offense to put up a lot of points. Allar has shown the tools in practice, and now it is time to see it in a game setting with pads and a live defense.
2. Mobility
It is no secret that Penn State's offense under James Franklin has been more successful when at least a semi-mobile quarterback is in the backfield.
In times when Penn State's offense has struggled under Franklin, quarterbacks have been limited in their mobility, typically by injury (think Sean Clifford in 2021 and Trace McSorely in 2018).
Keeping the defense honest with designed quarterback runs, option plays where the quarterback is a threat to pull the ball, and scrambling when plays break down open up holes for the Penn State running backs and can open receivers in the passing game.
Allar has shown some mobility in his game, mainly against Rutgers last season where he ran the ball 6 times and rushed in for a touchdown. Starting in the blue and white game, Allar needs to show more mobility in pulling the ball in option situations and scrambling out of the pocket and running if a play breaks down.
In all likelihood, Allar will be more of a pocket passer than either McSorely or Clifford (and rightfully so with his arm talent), but if he can keep defenses on their heels with the threat of taking off running, then Penn State's offense will be more successful.
3. Command of the offense
It is one thing for Allar to come into a game in the third or fourth quarter and run a few drives with the second string offense. It is another thing entirely for Allar to step into the huddle as QB1 and have full command of the gameplan and first team offense.
Allar has had over a year to learn the playbook now, with the return of offensive coordinator Mike Yurcich for a third year with Penn State. The time is now for Drew Allar to step up and be a leader of the Penn State offense.
As a young player, that may not come naturally, with many seasoned veterans and multi-year starters on the first team. However if Penn State's offense is to be successful, Allar needs to have full command of the offense to get the most out of every player lining up.
With a season of intermittent playing time under his belt, Allar should have a better understanding of what needs to be checked at the line and what to look for in the defense.
Getting this understanding and understanding how to communicate effectively to both Yurcich and the other players on offense will be key to keeping everyone on the same page. Look for Franklin and Yurcich to use the blue and white game to teach Allar lessons about communication and command of the offense to better prepare him to step in as QB1 in September.
Whether Allar is ready or not, the Drew Allar era begins for Penn State on Saturday. If Allar plays well Saturday, fans will be buzzing throughout the summer anxiously awaiting September 2nd.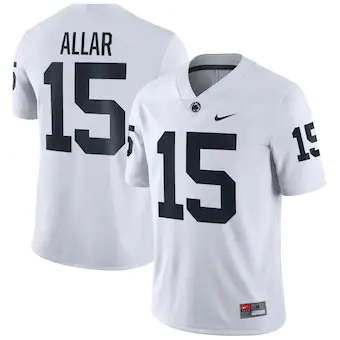 A note to our readers; If you make a purchase through one of our affiliate links, we may receive a commission
About Author