No. 13 Penn State Hockey Faces Colossal Series vs. No. 1 Michigan
No. 13 Penn State Hockey faces its toughest test of the season, against Big Ten foe, and No. 1 ranked Michigan in a home-home series.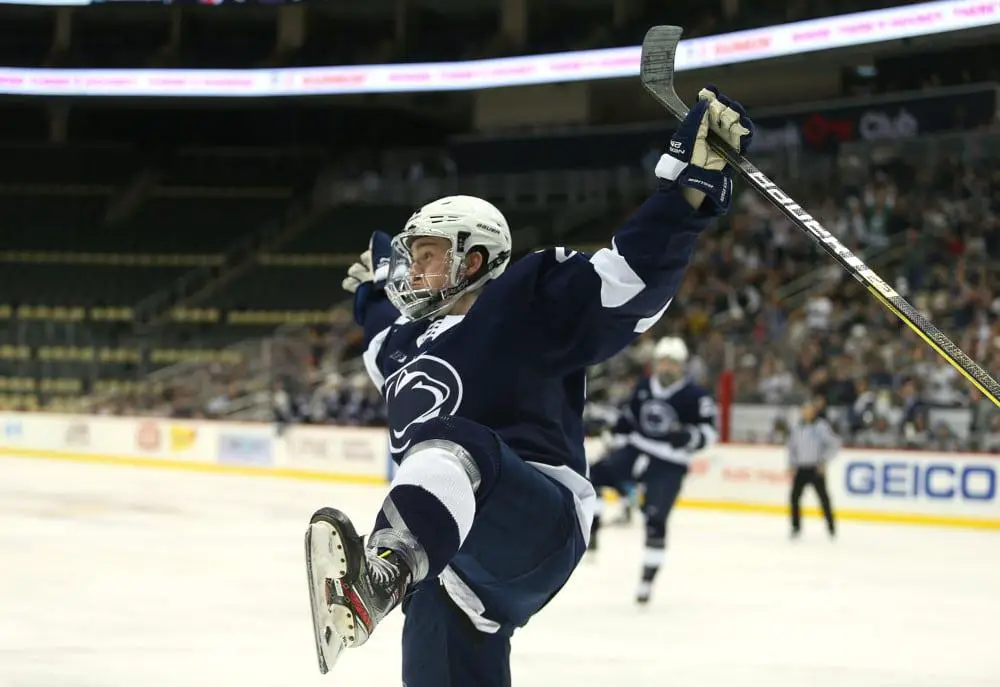 This weekend, Penn State Hockey faces off against the Michigan Wolverines for a Friday-Saturday home series.
The Nittany Lions' clash with the Wolverines officially marks the first time in over eight years that a No.1 ranked team visited Pegula.
Last season, Penn State Hockey had no luck, getting swept in both series against Michigan while being outscored 18-8. The Lions are 0-3-0 all-time when playing the top team in the country.
Here's everything you need to know about Penn State Hockey vs. Michigan
Analysis of the Wolverines
Michigan is 7-1 on the season, beating Lindenwood, having a series split against No. 9 Boston University, and sweeping Lake Superior State and Western Michigan.
The Wolverines are the number one-ranked offense in the country, averaging 5.25 goals per game. Top scorers for the Wolverines include Adam Fantilli and Mackie Samoskevich. Fantilli is a freshman forward, eligible for the 2023 NHL draft. He currently has (5 goals, and 10 assists) in 6 games played. Before playing for Michigan, he geared up for the Chicago Steel in the USHL. Mackie has (5 goals, and 5 assists) in 6 games played and was drafted in round 1 24th overall by the Florida Panthers.
Michigan is without six of their top seven scorers from last season, as four are playing in the NHL, with two others in the AHL.
<< BUY PENN STATE NITTANY LIONS GEAR >>
Analysis of Penn State Hockey
Penn State Hockey is 8-0 on the season, sweeping their first conference matchup against Wisconsin last weekend.
The Lions have established the No. 2 ranked offense in the country, with 4.63 goals a game average.
Kevin Wall should continue his goal-scoring streak this weekend, as he is one of eight current Nittany lions to have scored against Michigan.
Other players to have accomplished this feat include Ryan Kirwan and senior Ben Copeland. If Penn State can sneak a win out this weekend, it will be a high-scoring affair with a focus on the powerplay and faceoff dot.
Michigan is the most penalized big ten team in the conference, averaging 6.63 per game with opponents converting 21.4% of the time. They are also sixth in the big ten for faceoff percentage at 49.5, expect Guy Gadowsky to create quick strike faceoff plays.
Series Prediction: Michigan Sweeps 2-0
A note to our readers; If you make a purchase through one of our affiliate links, we may receive a commission