Penn State Football: Talented Freshmen Galore Stepping up
More so than in recent years, Penn State Football has a wealth of talent in this year's freshman class, and that talent is showing out already on Saturdays.
Nationally, Kaytron Allen and Nick Singleton are getting plenty of buzz, rightly so, from their play out of the backfield this year to re-energize the Nittany Lions' running game. However, there are several other players who are shining or stepping into the spotlight that you will want to know for the years to come.
Let's break down some of the highlights from Penn State Football's freshman class:
Nick Singleton and Kaytron Allen
Both Singleton and Allen have been creating a buzz since they stepped on campus in January.
This duo has become one of the best backfield combinations in the country.
On the season, Singleton has rushed for 679 yards and eight touchdowns on 112 carries. Allen has rushed for 558 yards and eight touchdowns as well on 108 carries, while adding 137 yards and 1 touchdown on 11 receptions.
Both Singleton and Allen have tied Noah Cain's Penn State Football freshman rushing touchdown record with eight touchdowns and will look to each break that record Saturday against Maryland.
<< BUY PENN STATE NITTANY LIONS GEAR >>
Drew Allar
If there is one name that carries more excitement than Singleton and Allen in the freshman class on the Penn State Football offense, it is Drew Allar.
The 6-foot-5 inch, 230 pound five star freshman has been the main focus in recent weeks in James Franklin's press conferences and fans have been clamoring to see more of him on the field each Saturday.
So far this season, Allar has completed 62.8 percent of his passes for 284 yards and four touchdowns without turning the ball over.
In the remaining three weeks of the season, and in whatever bowl game the Nittany Lions get invited to, expect to see plenty of Allar slinging the ball around and getting experience before he takes the reins fully from Sean Clifford for next season.
Harrison Wallace III and Omari Evans
Both Harrison Wallace III and Omari Evans have seen the field in spells at receiver.
Evans has next level speed and was able to show that off against Ohio earlier in the season, outrunning the secondary and catching a 32-yard touchdown pass from Allar. Wallace III has been on the field more consistently, catching 12 passes for 165 yards and one touchdown.
Drew Shelton
Playing on the offensive line as a freshman is not an easy task in the Big Ten.
It generally means there are issues with depth or injuries, which is exactly what happened for Penn State. Drew Shelton made his first career start at left tackle on Saturday, after injuries to starting left tackle Olu Fashanu and right tackle Caeden Wallace. Shelton had one holding penalty, but otherwise a very clean game, a great thing for an offensive lineman playing in his first career start on the blindside.
Abdul Carter
There is not a player on the defensive side of the football that has created more buzz than Abdul Carter, so much so that Manny Diaz had to change the defensive lineup simply to get Carter on the field more.
On the season, Carter has 37 tackles (24 solo), 2.5 sacks, and a forced fumble. Carter plays fast and hits hard and was a very exciting recent addition to the starting lineup.
Dani Dennis-Sutton
The five star freshman only got to campus in the summer, not having the chance to enroll early as many of the other members of this list.
His impact on the field has still been great for the Nittany Lions. On the season, DDS has 14 tackles (ten solo), three sacks, and an interception. Because of his lack of spring practice and his arrival this summer, DDS was only seeing the field later in the games early this season, but has been carving out a role earlier in games in recent weeks.
So far this season, nine freshmen have burned their redshirts for the Penn State program, far surpassing the two burned redshirts from last year's freshman class. This class has the talent to take Penn State to the next level nationally and it will be exciting watching all of these guys develop over the next few years together in Happy Valley.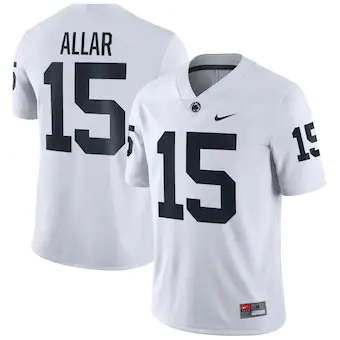 A note to our readers; If you make a purchase through one of our affiliate links, we may receive a commission
About Author